Buddy Valastro is best known for his impressive baking and cake decorating skills, which he currently shows off on Season 3 of Food Network's "Buddy Vs. Duff," and over the weekend, he proved that he can be just as sweet as the incredible confections he puts together on television.
Taking to his Twitter account on Saturday, September 4, the "Cake Boss" delighted followers with a stunning photo of him and his wife, Lisa, that was taken at a wedding they recently attended. In the snap, the couple could be seen standing outside in front of a luxurious pool while putting on a loved-up display with their arms wrapped around each other and huge smiles across their faces. They looked as stunning as ever in their wedding attire, which was a blue tuxedo and Gucci loafers for Buddy and a stunning, floor-length sequined gown for his lady love, but even more noteworthy than their polished looks were the sweet words that Buddy used to caption the tweet that has since earned more than 600 likes from fans. "You have and always will give me butterflies," Valastro wrote (via Twitter). Among the hashtags he included were #datenight and #lovemywife. (We're not crying; that's just something in our eye!)
Date nights weren't always this glamorous for Buddy and Lisa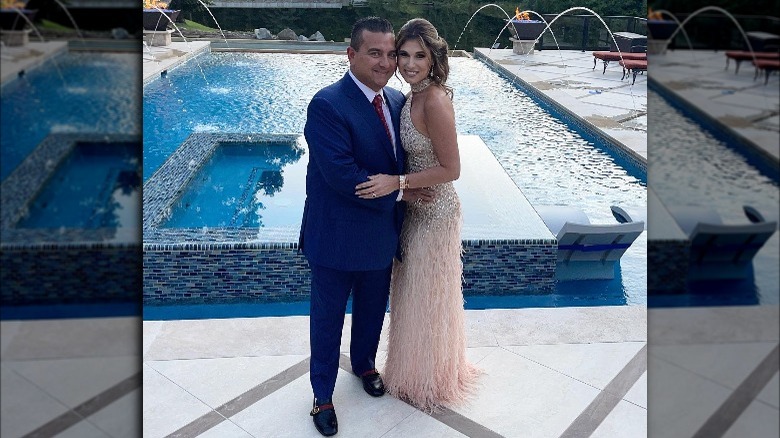 As it turns out, Buddy Valastro wasn't smitten with his wife right off the bat. In an interview with TLC, the baker revealed that he used to view Lisa as a "little girl" when he would see her hanging out with her best friend, who happened to be Buddy's second cousin and neighbor. However, things changed when they reunited at a nightclub several years later and became "inseparable." The two started dating, though their date nights weren't nearly as glamorous as their most recent evening out, as Buddy often had to work at his family bakery late into the evening. "She would bring me food," he explained to Delish of the early days of his relationship with his wife. "We'd have a little dinner, then she'd just hang out and watch me decorate."
Still, the couple persevered through their relationship and became man and wife in 2001. They've been through a lot in their 20 years of marriage, including having four children and, more recently, navigating Buddy's recovery after a near career-ending injury. Through it all, the love that Buddy and Lisa have for each other has clearly remained intact and was more than apparent in the newest photo of the pair. "Love y'all together so much. I really enjoy seeing the two of you on #CakeBoss #TrueLove at its finest," one fan tweeted in response to Buddy's sweet post, and we certainly agree!
5,632 total views, 1 views today